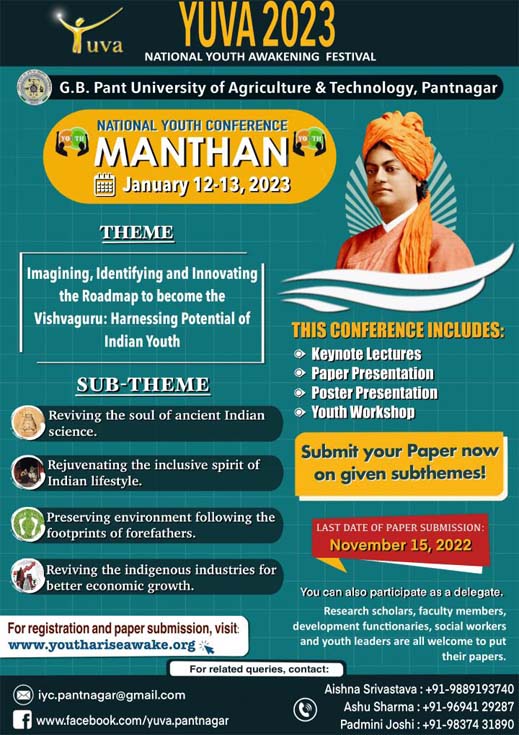 Role of Youth in achieving Atmanirbhar Bharat: Reviving Indian spirit of self-reliance
Self-reliance or Atmanirbharta is the core and latent divinity of Bharat. Indian spirit of self-reliance is unique and exemplary. The conception of 'Self' in India, is itself the reason which had given it the title of Vishwa Guru. Indian concept of self begins with 'I' but is not limited to an individual. Self includes individual, family, community, society, nation and ultimately leading towards the higher notion of Vasudaiv Kutumbkam. Thus, self-reliance in India begins with an individual but that cannot be fully attained unless the whole nation becomes self-reliant, thereafter playing a crucial role in ensuring world's progress. With its innate self-reliant spirit, India has pioneered at various fronts from the ancient times until now. Indian spirit of self-reliance is evident in form of the initial and classical works by individuals in all possible fields right from Yoga, mathematics, astronomy, cosmology, architecture, literature, grammar, philosophy, agriculture, medicine, surgery, chemistry, botany, geography, animal science, economics, political science to public administration. Beyond individuals, self-reliance has been the soul and functional unit of Indian villages' right from the age of Indus Valley Civilization.
Though inherent, but time and again there has emerged a pressing need to channelize the young and vibrant brains of India to revive the self-reliant spirit of this great nation. Tracing its way from the Gandhian era to a time when the world is suffering from a deadly pandemic, self-reliance has been always visualised as a potential solution for emerging challenges of India. Over again this issue was highlighted on May 12, 2020 as an effective response to an unprecedented havoc caused by Covid-19 pandemic in form of Atmanirbhar Bharat Abhiyan (Self-reliant India Movement). Atmanirbhar Abhiyan stood as a clarion call for the country to convert this crisis into an opportunity by becoming self-reliant and to re-boot and revamp its economy.
Current idea of self-reliant India is the same as Gandhi's — modernisation yes, Western dependence no. It aims at a quantum jump in the economic potential of the country by strengthening infrastructure, using modern technologies, enriching human resources, and creating robust supply chains. It is India's bridge between localisation and globalisation. In order to achieve this goal, policymaking needs to address underlying issues and leverage economic opportunities. PM Narendra Modi outlined the contours of this new self-reliant India across all spheres — education, health, agriculture, manufacturing, infrastructure, trade, defence, foreign policy, environment, digital connectivity; for all segments of society — the poor, the middle class, women, young, entrepreneurs, labour; and in all regions — from Kashmir to the North-east, from urban to rural areas. He also defined five pillars of Atmanirbhar Bharat — Economy, Infrastructure, System, Demography and Demand. From the Gandhian call of Swaraj movement to the present thrust on Atmanirbhar Bharat, Youth were and are observed as the most important driver of the desired transformation. The vibrant demography of the nation is capable enough to convert this dream to reality; just the role of youth in various domains is required to be identified in bringing up Atmanirbhar Bharat.
---
The four subthemes for the Youth Conference :
There is no registration fee.
The Conference will be held on January 12-13, 2021 in online mode.
Cash prizes worth Rs. 25,000 /- and appreciation certificates.
The selected papers will be published in a compendium with ISBN number.
---
GUIDELINES FOR PAPER SUBMISSION
The students can form a team of maximum two authors for paper submission in any of the four subthemes.
The paper should be submitted with a word limit of 2000-3000 words (excluding references). It should cover the following aspects but not necessarily under the same heading:
a) Problem Addressed
b) Solution Proposed
c) Feasibility, Economic and Environmental Viability, Scalability
d) Expected outcomes

Use Times New Roman 12-point font single spaced, 1-inch (2.5cm) margin all around, and 8.5 "×11"page setting.
Figures, graphs, tables must be of high resolution.
Kindly ensure that the paper is free from plagiarism and proper references are given.
The paper must be submitted in Microsoft Word (. doc,. docx) format only.
The first 100 paper submissions shall be eligible for evaluation and no further entries will be considered thereafter.
Last date of paper submission is December 15, 2020.
The confirmation regarding the selection of your paper for oral or poster presentation will be informed by December 22, 2020.
Incomplete submissions will not be considered.